2nd Annual Little Chicago Show & Shine If You Pre-Registered
8:00-9:45am VEHICLE ARRIVAL TIME
All vehicles will enter from the West Bound Lane of Manitoba Street, onto Main Street and you will be guided into your parking spot.
CHECK-IN:  Once you're parked, please come to a check-in table to fill out the card that will be displayed on your dash.  Welcome packages and dash plaques will be handed out during check-in and any pre-registrants paying with cash, will do so at this time.
Check-In Table #1:  Centre Meridian, Turning Lane, High Street and Main Street
Check-In Table #2: Centre Meridian, Stadacona and Main Street
Thanks For Your Support – We Are Full!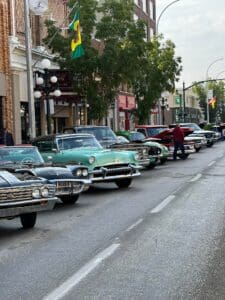 Moose Jaw, SK – Thank you! The Downtown Moose Jaw Association's 2nd annual Little Chicago Show & Shine is officially full with 400 classic vehicles registered for the September 16 event.
The Little Chicago Show & Shine's inaugural event in downtown Moose Jaw last year was a huge success, with over 220 classic vehicles on display up and down Main Street in Canada's Most Notoriously Charming Downtown.
"We were thrilled with the turnout last year and we've amazed by the response to get us to 400 vehicles this year," explained Alex Carleton, Event Chairperson. "We'll also have three live music stages, raffles, 12 award categories, along with gift bags and dash plaques for the first 200 entrants."
The Show & Shine runs from 10:00 a.m.-3:30 p.m with vehicles lined up on Main St. from Caribou St. to Manitoba St. Downtown businesses and restaurants will be open so you can dine and shop in between checking out the classics!
The DMJA thanks our Show & Shine sponsors:
MAJOR SPONSORS
800 CHAB
Western Dodge
Kal Tire
Moose Jaw Ford
Young & Young Automotive
Moose Jaw Coop
AWARD SPONSORS
Emerald Custom Creations
Moose Jaw Events Centre
Cruisers Custom Collision
Crushed Can Rec Room & Bar
Moose Jaw &  District Chamber of Commerce
Canadian Tire
Northern Air & Auto
Rodo's Pizza
The Mad Greek Restaurant
Family Pizza
Brain Kefford
Golden West Broadcasting
Brentz Garage
Crackmaster
Tim Hortons
Moose Jaw Express
John's Music
Family Pizza