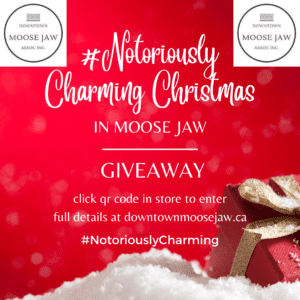 November 24, 2022
Moose Jaw, SK – The Downtown Moose Jaw Association (DMJA) is ready to present downtown shoppers with early Christmas gifts, thanks to our #NotoriouslyCharming Christmas Countdown!
Visit participating businesses and scan the QR code at the counter. Fill out the form and you could win one of 12, $100 gift cards to downtown Moose Jaw businesses. We'll announce one winner each weekday, beginning December 1!
For additional entries, simply post a photo or video of you enjoying Canada's Most Notoriously Charming downtown between November 26 and December 14. Post on Facebook and/or Instagram and use the hashtag: #NotoriouslyCharming.
The winning has begun!
December 1 – Taleah Smith
Here's a list of #NotoriouslyCharming participating businesses:
Gemmell's Shoes
Rexall
With These Hands
Clothes Encounter
Organically Connected
4 Plants Indoor Gardening Supply
Taste Patisserie by Katrina
Rosie's on River Street
The Grant Hall Hotel
Evans Florist
D.&D. Quality Care Inc.
Moose Jaw Public Library
Past Times Antique Style Photography & Gifts
Little Chicago Entertainment
Sweet Treats Candy Company
Landmart Realty Ltd.
Mad 24 Restaurant
Bella Chic
Moose Jaw Cultural Centre
Dream Drop Shoppe
Soltopia Kitchen + Juicery
Emerald & Vibe Custom Graphics
Good luck, and thanks for shopping downtown Moose Jaw!