September 17, 2023
Moose Jaw, SK – The Downtown Moose Jaw Association (DMJA) is thrilled and thankful following the 2023 Little Chicago Show & Shine.
Saturday, September 16, the DMJA hosted its 2nd annual classic car show in downtown Moose Jaw. Following 220 vehicles in 2022, this year's event expanded to 400 vehicles. Attendees were able to see the incredible collection of vehicles and enjoy live music from Manitoba St. all the way up to Caribou St. To view a photo gallery, click here. 
We couldn't have hosted the event without the support of all of our sponsors – here is a look at them: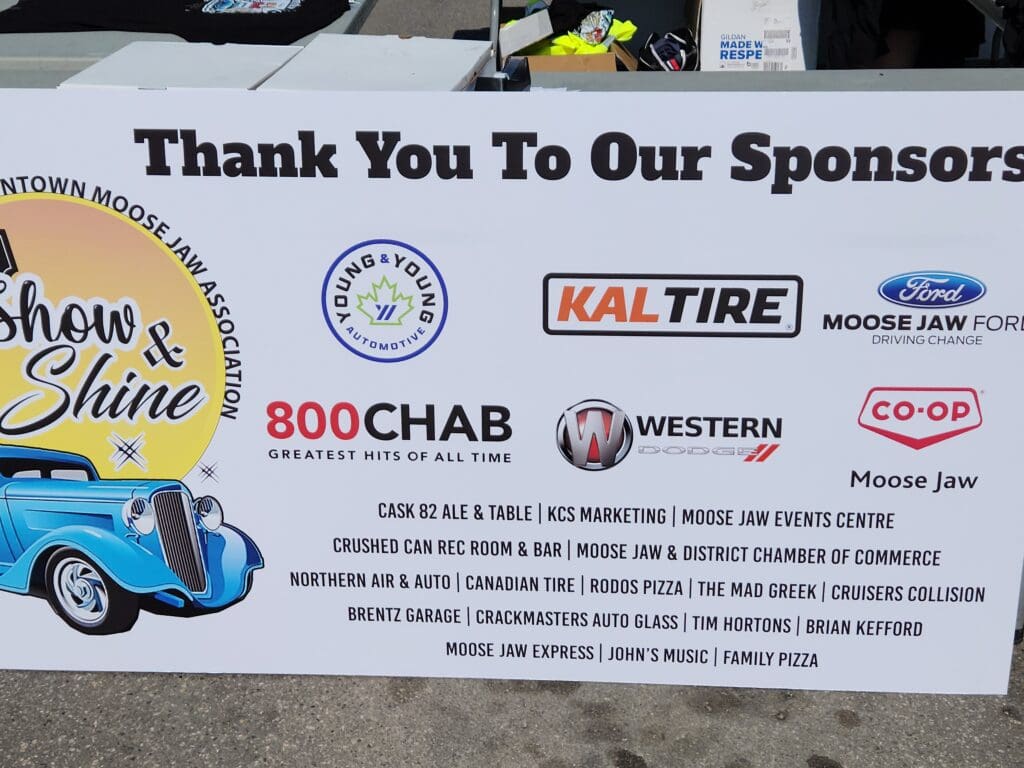 Here are the winners in the respective Show & Shine categories:
Pre-1949 – Al Schultz – 1932 Ford Coupe
1950-1959 – Jim Bast – 1956 Ford F100
1960-1969 – Laurie & Kelli Wiens – 1966 Volkswagen Beetle
1970-1979 – Lorne Huber – 1972 Dodge Starfleet Van
1980-1989 – Brian Kefford – 1989 Mustang 5.0 LX
1990-Present – Moe Martin – 1992 Mazda Miata
Best Hot Rod – John Penna – 1931 Ford Coupe
Best Rat Rod – Russell Hart – 1925 Ford T Cab
Best New Gen – Brody Schoffer – 2019 BMW I8 Roadster
Best Truck – Don Winter – 66 Chevrolet Custom Sport Truck
Best In Show – Dwayne Deis – 1968 Pontiac Beaumont
Further, tickets were sold on several raffle prizes, and some have not yet been claimed. Here are the prizes and corresponding winning ticket numbers. If you have a winning ticket, please email: dmja2021@gmail.com and include a picture of your winning ticket and we can arrange prize delivery.
Show & Shine beer fridge courtesy MJ Express: Winner – John Penna
$1000 Kal Tire gift card: yellow ticket #757919
#NotoriouslyCharming Downtown MJ Getaway (Grant Hall hotel stay, $100 Cask 82 gift card and two passes to the Tunnels of Moose Jaw): Winner – James Tress
Two tickets to Little Miss Higgins at the MJ Cultural Centre Sep.23: Winner – Chad Nashiem
Two tickets to Little Miss Higgins at the MJ Cultural Centre Sep.23: blue ticket #2462471
Two tickets to Little Miss Higgins at the MJ Cultural Centre Sep.23: yellow ticket #757886
Two tickets to Christmas with the Ennis Sisters Dec.1 at the MJ Cultural Centre: blue ticket #2462521
Two tickets to Christmas with the Ennis Sisters Dec.1 at the MJ Cultural Centre: yellow ticket #757937